POSTED BY RIVER MOON DESIGNS
FRIDAY, NOVEMBER 4, 2011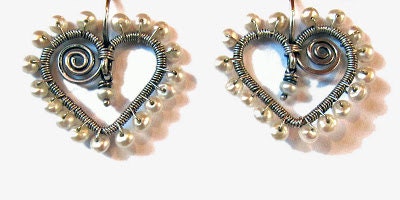 Sterling Silver and Fresh Water Pearls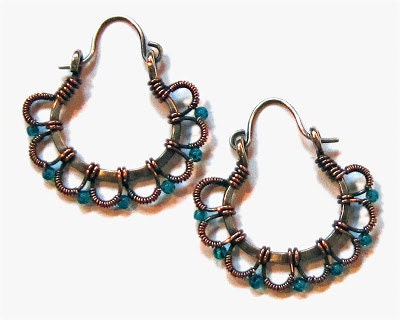 Sterling Silver, Copper Petals and Blue Turquoise Glass Beads - SOLD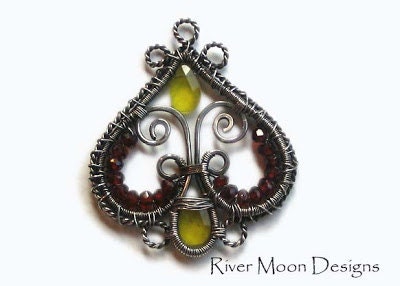 Garnet and Serpentine; Sterling Silver Pendant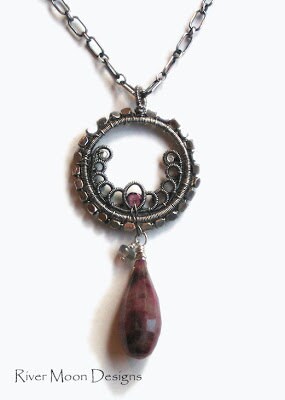 Ruby Josite, Pink Tourmaline, and Labradorite; Sterling Silver Pendant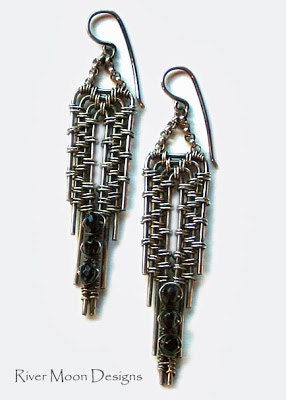 Onyx and Sterling Silver Feather Earrings
POSTED BY RIVER MOON DESIGNS
WEDNESDAY, AUGUST 13, 2008
August 13, 2008, my grandmother really wanted to be here for this day; she would have been 100, but unfortunately she passed away four months too soon. Her spirit will be remembered, cherished, and celebrated always. On this special day, I've been looking forward to sharing some pictures. Enjoy!~~~ The question I'm always asked, since I am one, is "Linda, where really do fairy princesses come from?" On this special day, I guess it's OK to let the family secret out. Below, with my grandma in the center, is the truth. But, Shhhhhhh... Remember, it's our little secret and it will never be spoken of again.~~~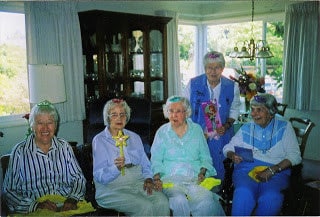 Opal Van Valkenburgh with her six great-grandchildren on December 26th, 2001.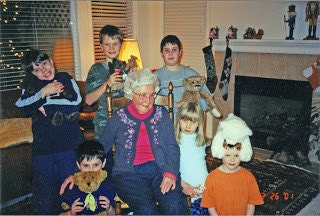 (From back-to-front, left-to-right) Henry, Dusty (mine!), Christopher, Alex, Great-Grandma, Francis, and Dylan (yep, this one's mine too!). And yes, Francis has got the fairy princess thang goin' on too. Grandma's great-granddaughter doesn't fall far from the tree. Oops... Ok, this time it will never be spoken of again. Swear... ~~~ Happy Birthday Grandma! Love you!!!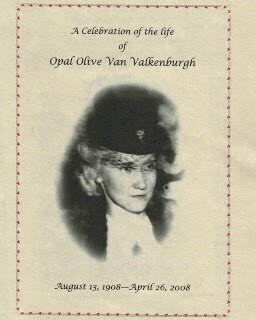 POSTED BY RIVER MOON DESIGNS
THURSDAY, MARCH 27, 2008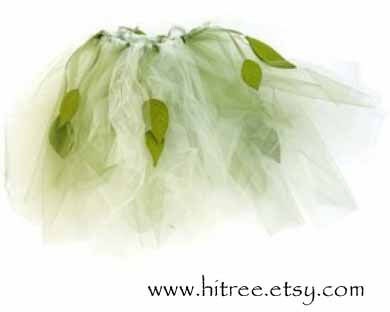 Funny story to go with the picture: Last week I saw this Woodland Fairy Tutu on http://www.hitree.etsy.com/. I showed it to my husband and mentioned that it would be fun for me to wear during our walks in the woods near our home. Or another idea, I wear it when my teenage sons are having their friends over. My husband thought it would be humorous too. For Easter, he told me to order it as a present from him. I did.
Tina, the gal that makes the tutu, just emailed me and asked, "how large is your daughter? Would you like the tutu in a toddler or child size?" Too funny! I emailed her back, and while dragging my foot across the ground in embarrassment, I told her it was for me. I explained that I was an average 49 year old: not too big, not too small, a little on the eccentric side, so a large child sized tutu would probably fit. Tina replied back, "I wondered when this was going to happen..."
Am I crazy or what?! Probably scar my boys for life! (She said, while rubbing her hands together and nervously giggling...) Now I just got to find a magical woodland fairy wand... 
POSTED BY RIVER MOON DESIGNS
TUESDAY, MARCH 18, 2008
I am in a wearable arts - spring fling charm exchange, at wetcanvas.com, and I just finished my charms. In the exchange, you submit 10 charms that you've made, and get back the same amount from other wearable artists. Fun! I ended up making form folded copper, sterling silver, turquoise and coral Morning Glories. Something new for me and I LOVE THEM!!! Other than needing a tetanus shot, for all the cuts on my hands, they turned out fantastic. I'm hoping to make more to incorporate future jewelry pieces.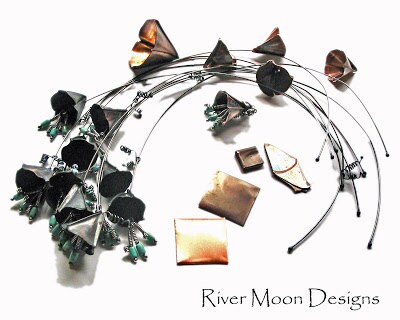 The Process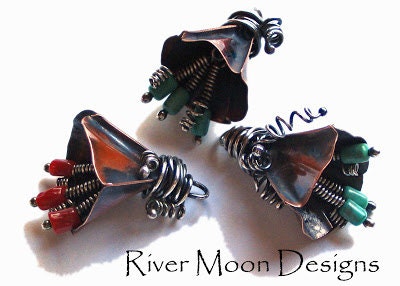 The Result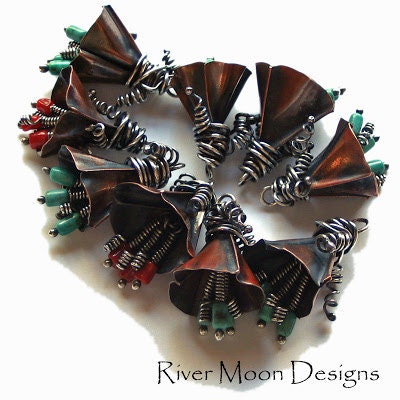 POSTED BY RIVER MOON DESIGNS
TUESDAY, FEBRUARY 26, 2008
Dun Du Du Duuuuh... It's my birthday!!! I turned Ooooh-My-Gawd I'm 49 today. Yes, and thanks for pointing it out; I do realize that next year I turn I'm Freakin' Ancient 50... Anyhow, I spent my Ooooh-My-Gawd I'm 49th birthday morning digging through some old, old, old, almost Freakin' Ancient family pictures. And I got the idea, rather than posting pictures of jewelry, I thought I'd post a picture of the birthday girl (me) when she had her Ahhh, She's Sooo Precious, 1st birthday. Yeah, yeah, yeah, I know, I'm still precious, but Ooooh-My-Gawd...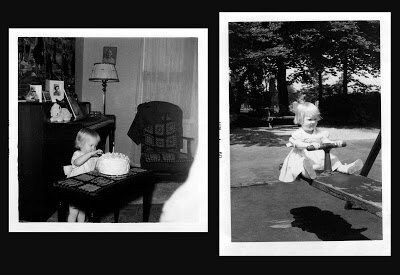 Have a great day everyone!
POSTED BY RIVER MOON DESIGNS
THURSDAY, FEBRUARY 21, 2008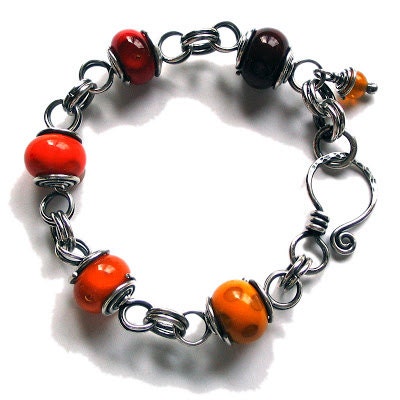 Making a Sterling Silver BraceletUsing Beginning Wire Technique with Linda Van Valkenburgh-MillsSaturday, May 3, 12-4 p.m., $80(includes kit to make your bracelet. You supply your own beads.)~
Wire is everywhere in jewelry today. To learn the basics and more, this class is what you need to get started, or to expand your wire skills. Students will be introduced to wire working tools and their proper use. They will then explore single and double wrapped eye loop, coil caged beads, headpins, jump rings, clasp and finishing techniques. You will leave this class with a solid knowledge of wire working skills and techniques, and your own beautiful sterling silver wire and bead bracelet.


POSTED BY RIVER MOON DESIGNS
THURSDAY, FEBRUARY 21, 2008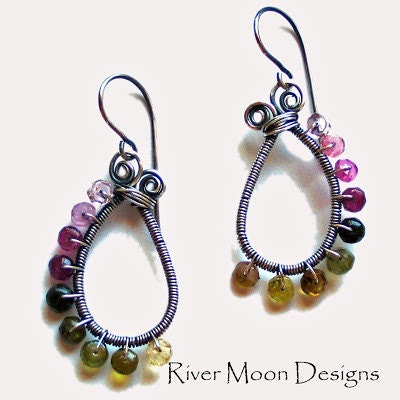 Paisley Earrings ~ Tourmaline and Sterling Silver - SOLD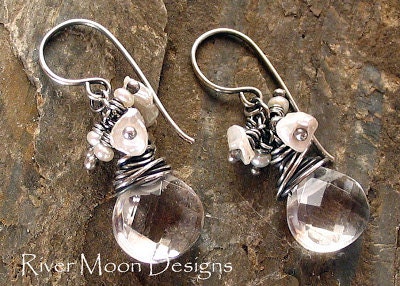 Rock Crystal Briolette, Freshwater Pearls, and Sterling Silver - SOLD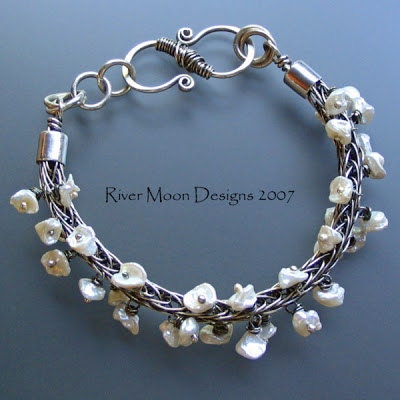 Sterling Silver Viking Knit with white Keishi Fresh Water Pearls Bracelet - SOLD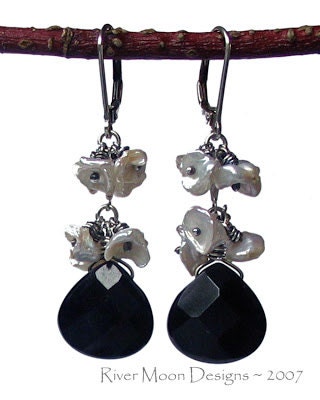 Sterling Silver, Onyx Briolette with Keishi Fresh Water Pearls - SOLD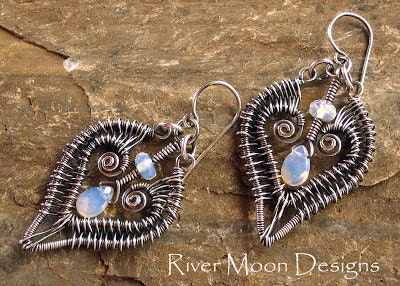 Opalite and Sterling Silver - SOLD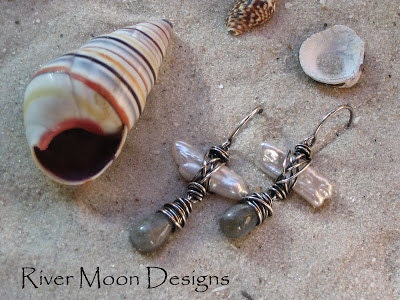 Freshwater Pearls, Labradorite Teardrop, and Sterling Silver - SOLD
POSTED BY RIVER MOON DESIGNS
FRIDAY, OCTOBER 19, 2007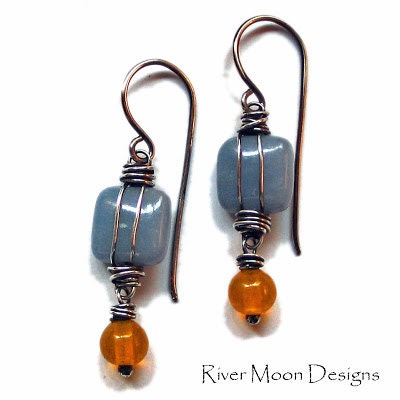 New Earrings Today!~Light blue Angelite squares with white flecks,wrapped in Sterling Silver and complemented with an apricot colored glass bead.Love the colors! - SOLD
OSTED BY RIVER MOON DESIGNS
TUESDAY, OCTOBER 16, 2007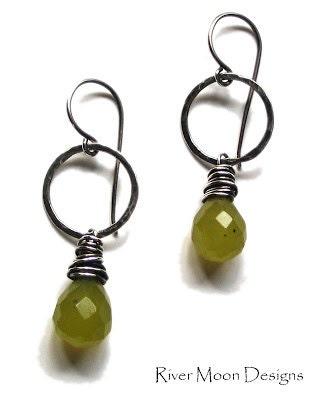 Sterling Silver & Serpentine - SOLD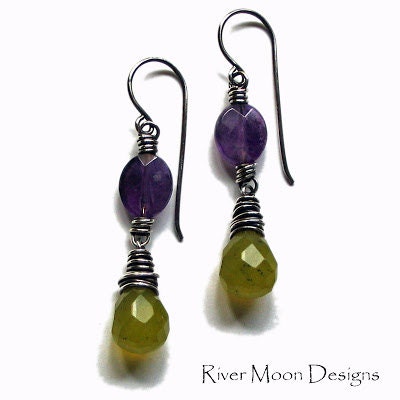 Sterling Silver, Serpentine & Amethyst - SOLD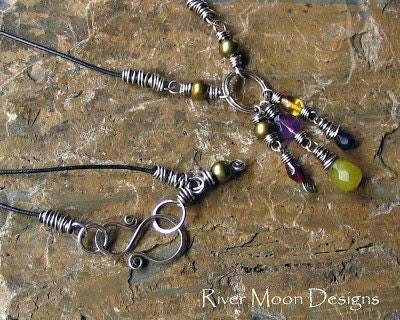 Serpentine, Amethyst, Garnet, Freshwater Pearls & Amber Sterling Silver, Black Leather Cord,Forged Sterling Silver Hook ClaspLength 25" - SOLD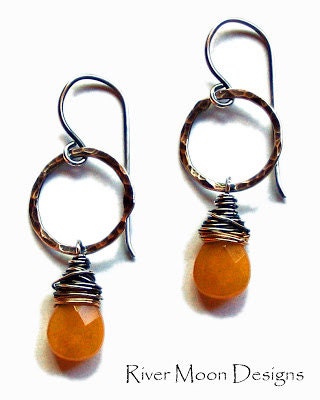 Sterling Silver & Gold Filled Wire with Yellow Jade Drops - SOLD
POSTED BY RIVER MOON DESIGNS
TUESDAY, AUGUST 14, 2007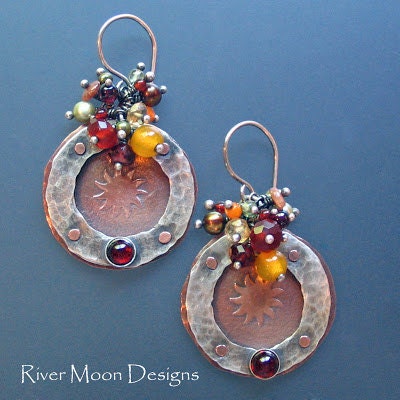 Cold Connected Sterling Silver and Copper, Garnet Cabochon Embellished with Garnets, Freshwater Pearls, Carnelian, Peridot, Citrine, Sunstone, and Vintage Glass Beads - SOLD
POSTED BY RIVER MOON DESIGNS AT
TUESDAY, AUGUST 7, 2007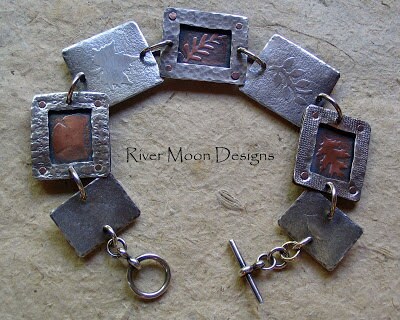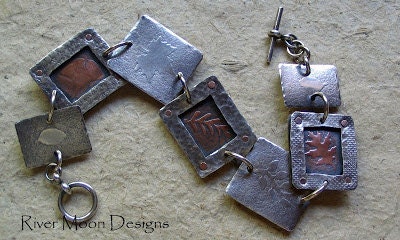 Something New!!! Two views of a sterling silver and copper bracelet. Metals were milled and then forged. Picture windows have cold connections, rivets. Fall is coming!
POSTED BY RIVER MOON DESIGNS AT 
TUESDAY, JULY 24, 2007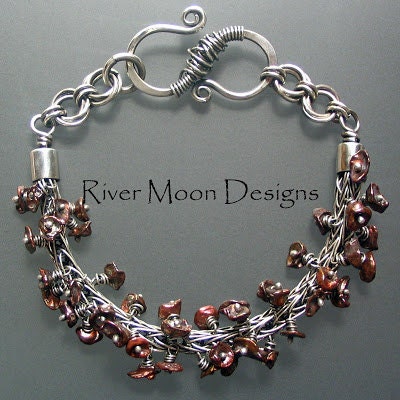 Sterling Silver Viking Weave Bracelet with Copper Keishi Freshwater Pearls (A lot like the white keishi pearl one I made several months ago) - SOLD
POSTED BY RIVER MOON DESIGNS
SATURDAY, JUNE 30, 2007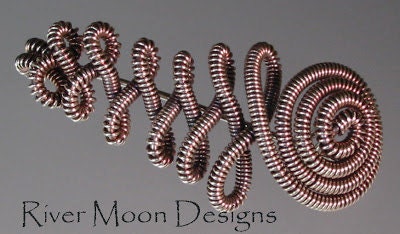 Sterling Silver Pin- SOLD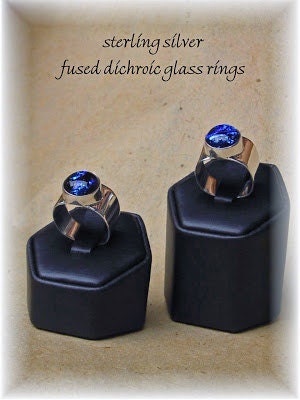 Two Sterling Silver & Fused Dichroic Glass Cabochon Rings - SOLD